Welcome to the
Bedford-Stuyvesant Volunteer Ambulance

Corps

A multi-racial volunteer ambulance service and emergency medical training facility in Bedford Stuyvesant, Brooklyn.
"The People's EMS" – Since 1988
Savings lives today. Building lives for tomorrow.
Above, a VICE News video featuring our late founder, James ("Rocky") Robinson, and his son, Antoine Robinson, in 2015.
URGENT:  BSVAC needs your support NOW! 

Click here to donate

. 
Official website of the Bedford-Stuyvesant Volunteer Ambulance Corps
COVID-19:

For Brooklyn INFO AND RESOURCES

CLICK HERE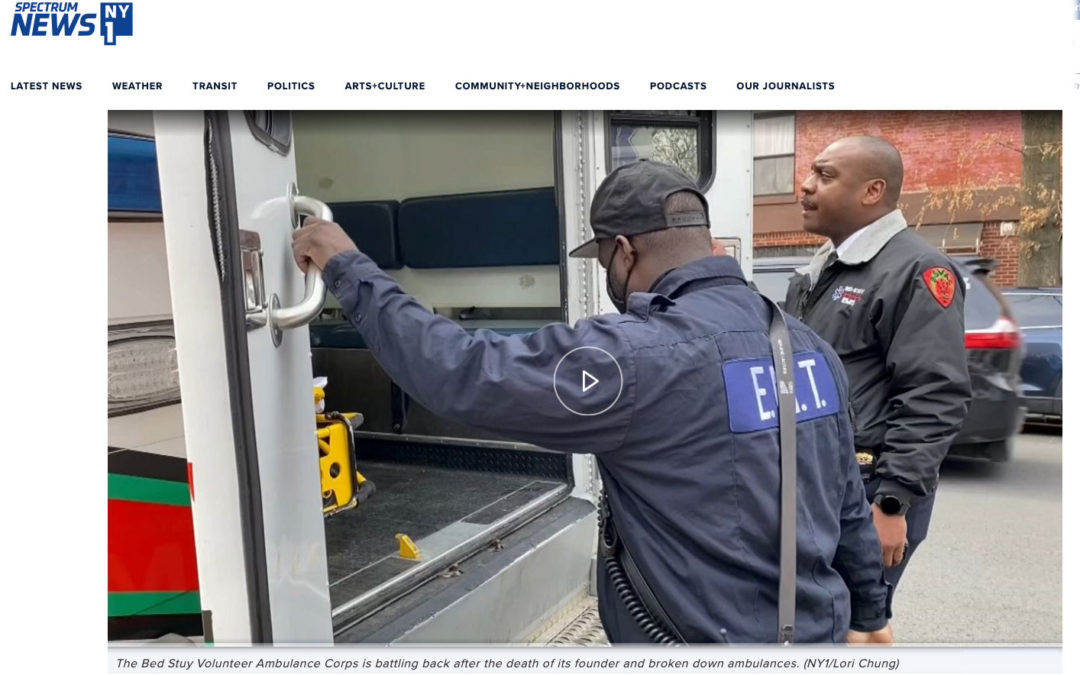 Brooklyn volunteer ambulance group battling back after setbacks BY LORI CHUNG BROOKLYN PUBLISHED 6:00 AM ET MAR. 15, 2022 BROOKLYN, N.Y. — There's no telling what the members of the Bed Stuy Volunteer Ambulance Corps will find...
read more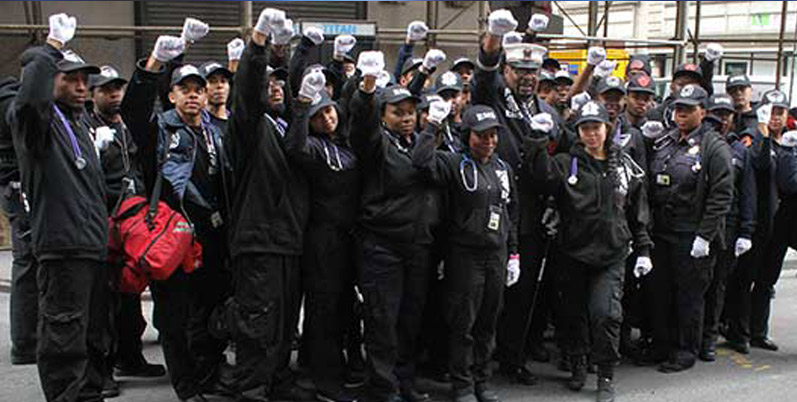 At top, historic photo shows the late Rocky Robinson, center, holding court surrounded by first responders he personally trained. Our Time Press Bedford-Stuyvesant Volunteer Ambulance CorpsBattles Coronavirus Pandemic Antoine...
read more
About BSVAC
The Bedford-Stuyvesant Volunteer Ambulance Corps (BSVAC) is the nation's first multi-racial volunteer ambulance corps, founded in 1988 by two EMS workers, Captain James "Rocky" Robinson" and Specialist Joe Perez. Since then, "The Vollies" have both saved lives and changed lives in a community disproportionately affected by physical and economic trauma. Commander Robinson passed away in September, 2019, and his son, Antoine Robinson, is now Commanding Officer.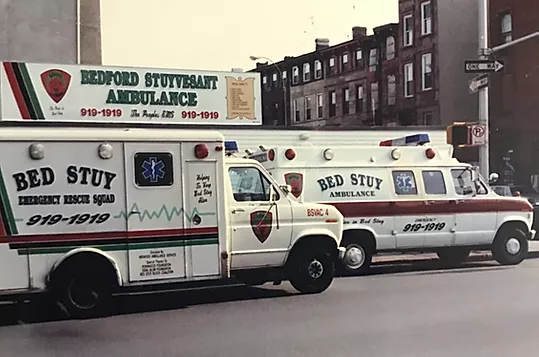 HONORING THE LEGACY
OF OUR FOUNDER
COMMANDER
James "Rocky" Robinson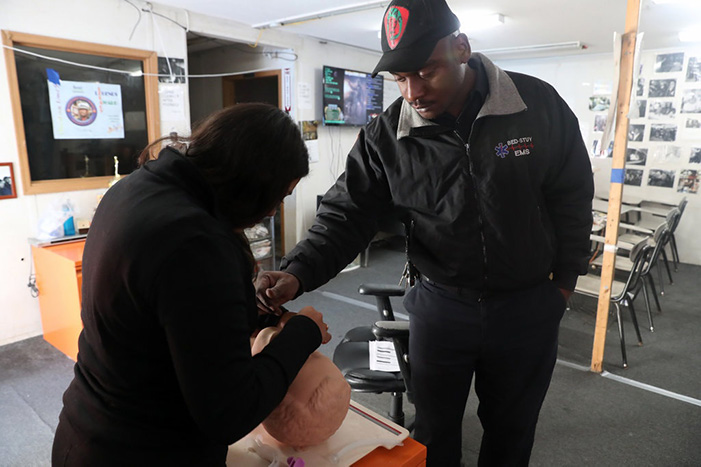 Antoine Robinson teaching CPR.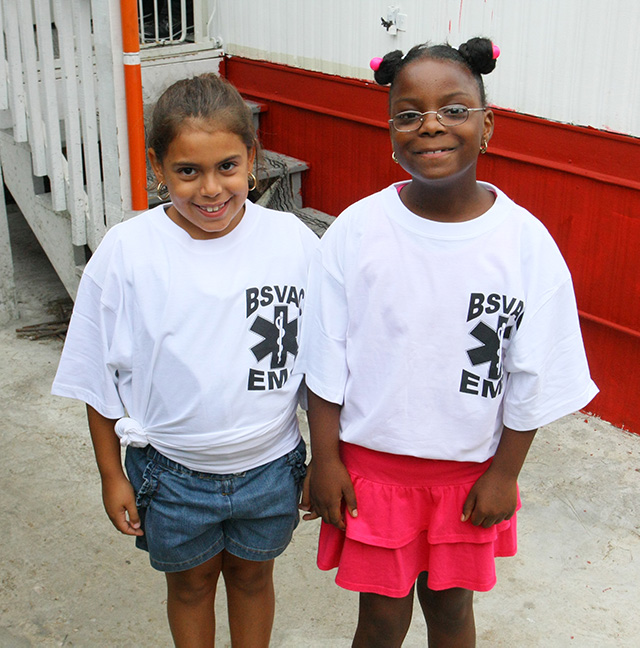 Message from BSVAC Commanding Officer,
Antoine Robinson
After riding ambulances in New York City as a Paramedic for more than two decades, responding to the full range of medical emergencies from allergic reactions and asthma attacks to vehicle accidents and violent trauma, and after more than three decades as a BSVAC volunteer, including responding to the World Trade Center terrorist attack of 9/11 and the 2010 earthquake in Haiti, I have seen most medical emergencies. However, what I have encountered during the current COVID crisis is like nothing I have ever experienced.
New York City has emerged as the epicenter of this global pandemic and BSVAC, along with the Fire Department of New York, where I serve as a Paramedic, has been on the front lines in responding. It is not an exaggeration to say that the pandemic has turned our hospitals into war zones.
Although the numbers of new cases and the daily death counts in New York City are currently starting to trend downward, we have no vaccines or proven treatments. Testing is still not widely available. As a result, this pandemic is far from over.
Those of us who are first responders, or other essential medical professionals, are fighting every day to treat the casualties of this pandemic. We need your help. Please help us by staying home as much as you can and taking precautions whenever you go outside (face masks and social distancing). Wash your hands thoroughly and frequently whenever you return from outside.
At BSVAC we need your support and donations now to help us respond to the unprecedented volume of emergency calls.
But most of all, we need you to stay home and stay safe.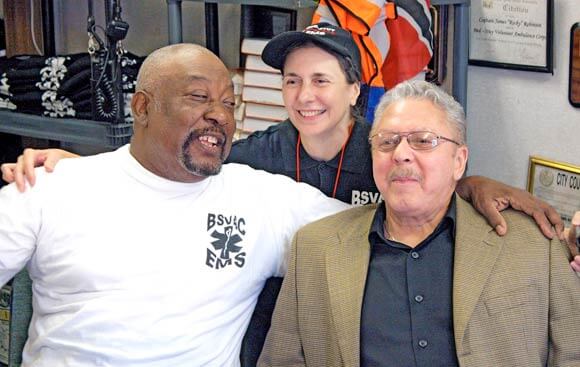 From left: James (Rocky) Robinson, Tamsin Wolf and Joe Perez.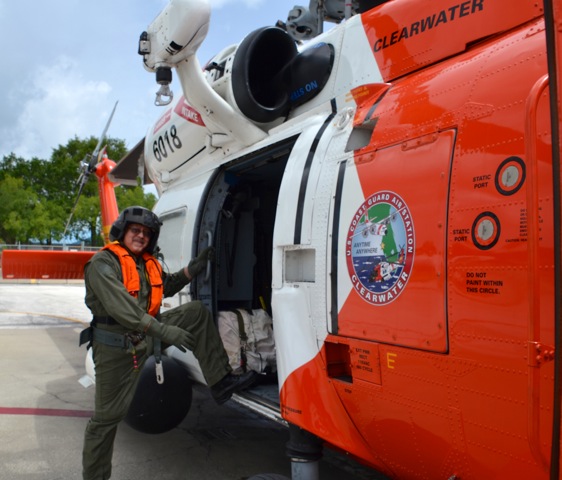 Joe Perez at U.S. Coast Guard Air Station Clearwater, FL. 
Message from
BSVAC Co-Founder, Joe Perez
To All the Volunteers at BSVAC:
I salute you, the brave men and women of the Bedford-Stuyvesant Volunteer Ambulance Corps, with heartfelt pride. You are staring down COVID-19 with heroic vigor. Only real heroes fly through the streets with lights flashing and sirens blaring to rescue those in need. Your utter courage and devotion to saving lives is a testament to who you are.
Governor Cuomo recently quoted Winston Churchill: "If you're going through hell keep going." Don't stop. Should you stumble, remember that the real measure of a person's character is when you pull yourself up. It is not the critic on the sidelines who makes a difference, nor the person who only sits back and finds fault with those who are taking action. The credit belongs to the person who is actually in the arena.
In the midst of COVID-19 and all its horrors, I know that Rocky is looking down at BSVAC and each of you with great pride and a big smile. We have a proud history for over 30 years, a lifetime of saving and building lives. Now the torch is handed to you.
Thank you and God Bless all of you.
Joe Perez
Community Liaison, Public Affairs Office
United States Coast Guard
U.S. Department of Homeland Security
Clearwater, Florida
Serving Our Community Since 1988
When BSVAC first began operations, the neighborhood was ravaged by violence related to crack cocaine, and the average response time in Bed-Stuy for city ambulances was 30 minutes. Today, BSVAC responds to over 100 emergency calls a month with an average response time of less than 4 minutes.
In addition to medical services, BSVAC has worked tirelessly to teach life-saving skills to Bed-Stuy residents and connect them to careers in emergency medicine. To date, over two thousand local residents have been trained through BSVAC CPR, first aid and EMT training programs.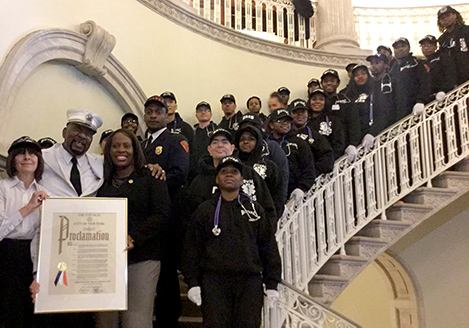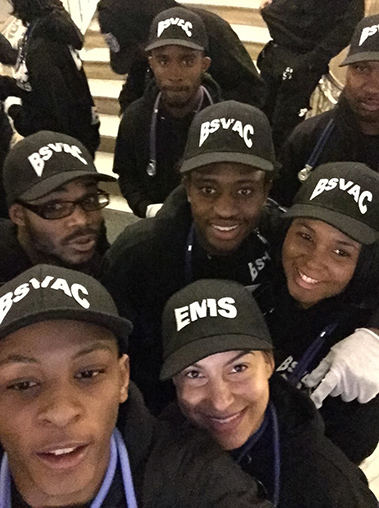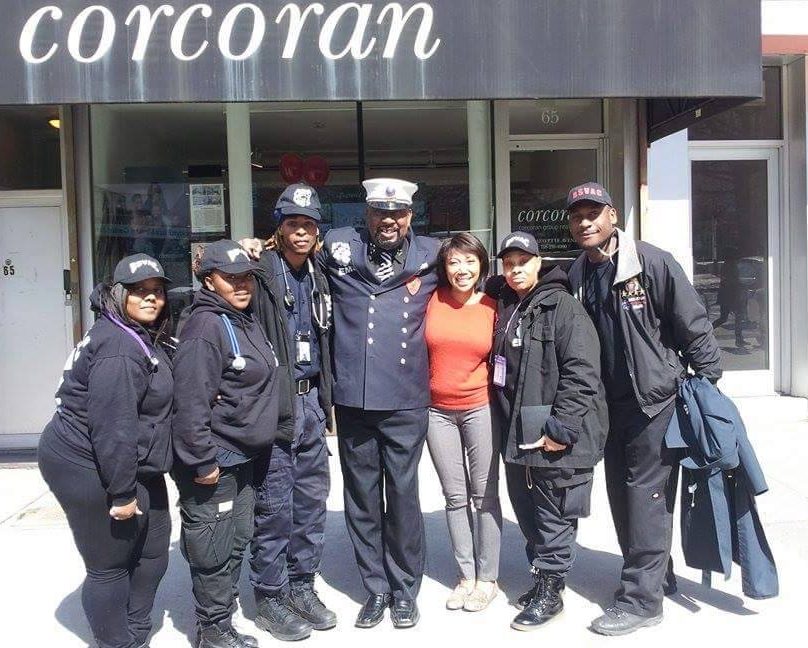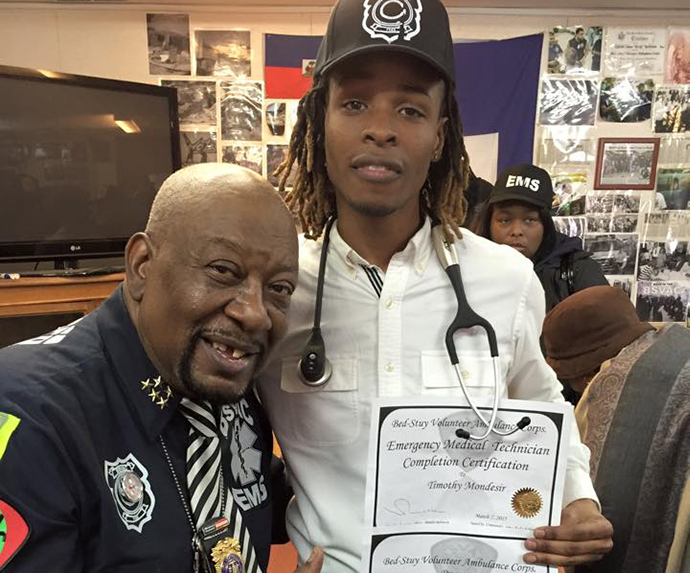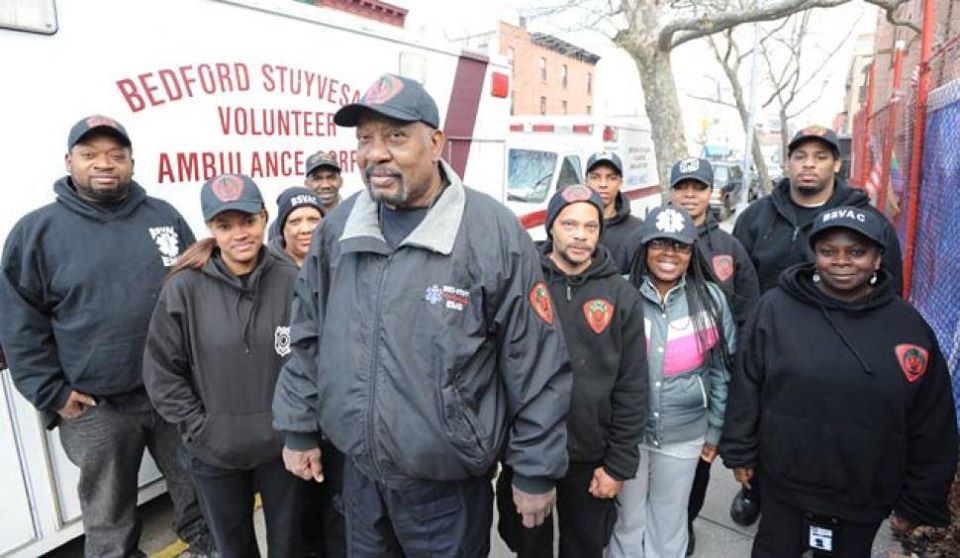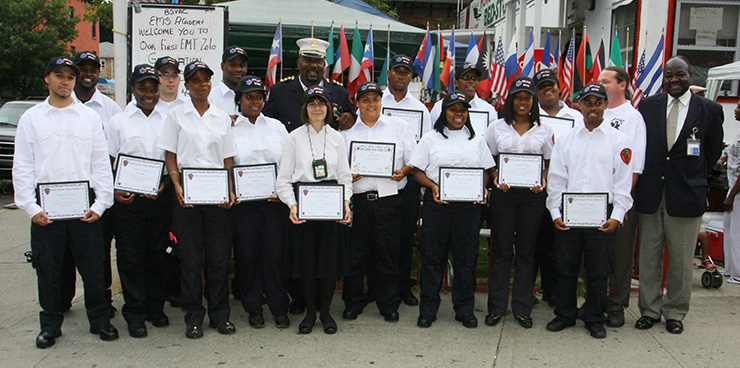 BSVAC provides CPR training and First Aid Training as approved by AHA (American Heart Association). Individual and group rates available. Training for large groups may be scheduled at their locations, if requested.
BSVAC has been certified by NYS DOH (Department of Health) as an EMT-Basic Course Sponsor. The EMT-Basic training is an intensive program that prepares students to take the NYS written and practical licensing exams to become an EMT.
BSVAC has designed a comprehensive emergency medical training program including Trauma Troopers, First Responders, and Youth Corps. We look forward to continuing these programs when the current health crisis eases.
Name: Bedford-Stuyesant Volunteer Ambulance Corps
Phone: 718-453-4617
Email: info@bsvac.org
Address: 727 Greene Avenue, Brooklyn, NY 11221
Organization type: Emergency Rescue Service · Nonprofit · Safety & First Aid Service and Training
Want to Join?
Of course, volunteer help is welcome. However, to ride with the ambulance and provide medical care to patients, any prospective volunteers must prove they are licensed EMTs or Paramedics and have an interview in person. There are also other volunteer opportunities for individuals who are not certified as EMTs or Paramedics, including dispatching (to be trained by BSVAC). Please call us or send an email.