BSVAC Mission
The nation's first multi-racial volunteer ambulance corps, BSVAC – popularly known as the People's EMS – has been providing emergency medical services and training programs since 1988. BSVAC's mission is two-fold: to save lives (through its neighborhood first responder station and its ambulance service) and to change lives (through its emergency medical training programs).
At BSVAC, we are saving lives today and building lives for tomorrow.
• We save lives
• We grow heroes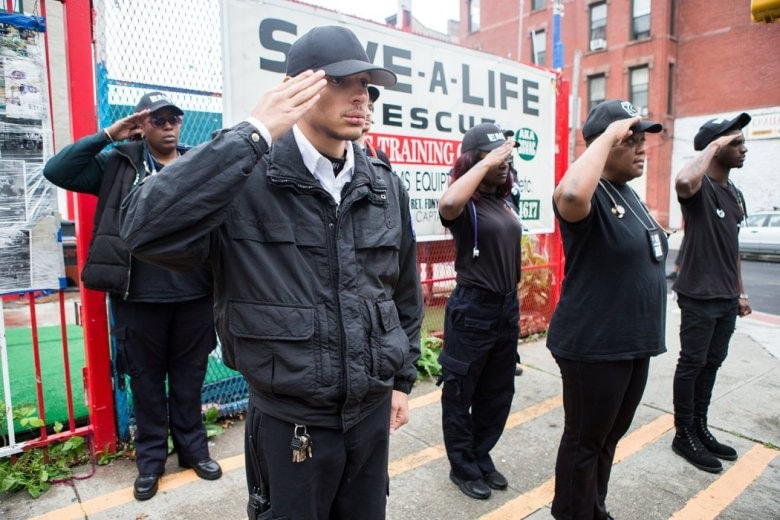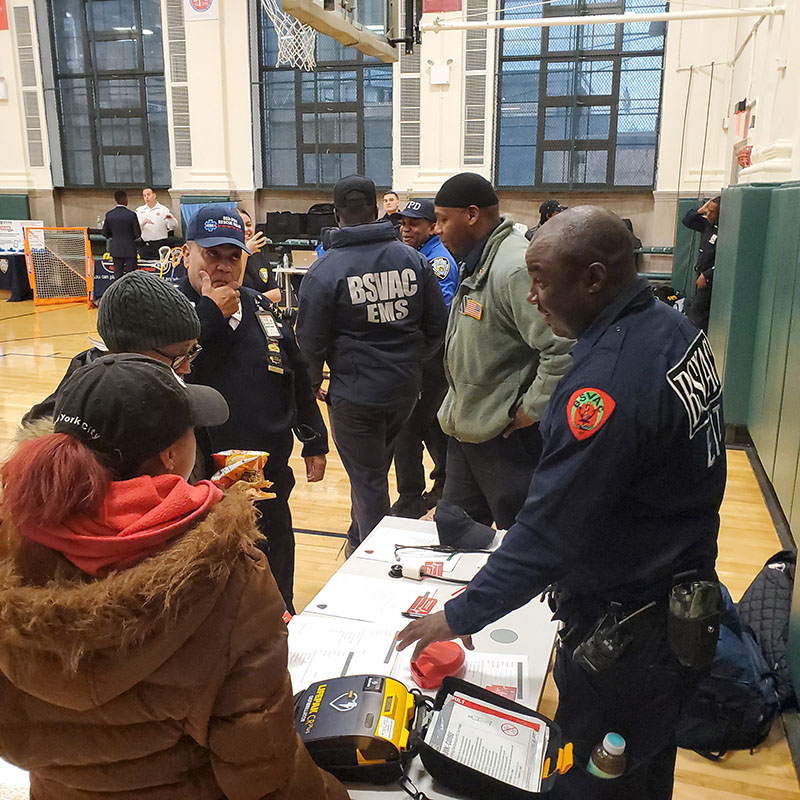 About Us
The centerpiece of BSVAC's activities is its volunteer ambulance service. BSVAC has been the busiest volunteer ambulance service of its size in the nation, responding on average to more than 1,200 calls per year. In order to run the ambulance service, trained volunteers must be available. It was this need for trained volunteers that led to the development of BSVAC's emergency medical training programs.
From its inception, BSVAC has been committed to training community residents in life-saving emergency medical skills. Thus, there is a critical synergy between the two components of BSVAC's mission: by training individuals to deliver emergency medical care, BSVAC "grows" the trained volunteers it needs to run its ambulance service. In addition, by providing training, BSVAC enables its volunteers to secure employment in the emergency medical services field.
History
BSVAC, the nation's only multi-racial volunteer ambulance corps, was founded in 1988 by two EMS workers, Captain James Robinson (African American) and Specialist Joe Perez (Latinx), with the assistance of Tamsin Wolf (Orthodox Jew), a volunteer lawyer. The creation of BSVAC was their response to the crisis in emergency medical service that afflicts New York's minority communities.
When BSVAC first began operations, the response time in Bed-Stuy for city ambulances averaged about 30 minutes. BSVAC established a record-breaking ambulance service that currently maintains an average response time of less than 4 minutes. BSVAC also established a neighborhood first aid center and has worked to promote preventive health care in the community. BSVAC has lost count of the number of lives it has saved.
Emergency Medical Services
BSVAC is an internationally recognized life-saving organization, that has responded to emergencies throughout the U.S. (including the 1993 World Trade Center bombing, the Queens air disaster, 9/11, Hurricane Katrina, and Hurricane Sandy) and abroad; it was the first organization to send volunteer medical personnel to Haiti following the January 2010 earthquake. More locally, BSVAC was a first responder to the East Harlem blast in March 2014 and BSVAC responded to the tragic shooting in Bed-Stuy of police officers Wenjan Liu and Rafael Ramos in December 2014. BSVAC was also in the forefront of responding to the COVID-19 crisis that first appeared in the NYC in early 2020.
Training Programs
BSVAC's grassroots education effort has been a central part of the BSVAC mission from its start in 1988 and BSVAC has been training New Yorkers in emergency medical care since then. To date, over two thousand local residents of all ages have been trained through BSVAC as First Responders who can save lives in emergencies. BSVAC's program for children, called the Trauma Troopers, provides CPR and first aid training, along with positive role models and social activities. BSVAC has also developed a remarkable Youth Corps program that provides CPR, first aid and basic emergency medical training to teens, preparing them for entry into the EMT (Emergency Medical Technician) training program at its EMS Training Academy from which hundreds of young people have graduated, many of whom have become professional EMTs, joined law enforcement, or have otherwise embarked on careers in medicine as nurses, physician assistants, paramedics and even doctors.
Awards
BSVAC has received numerous honors, including Robin Hood Foundation Hero of the Year Award, New York City Hero Award, American Institute for Public Service Jefferson Award, Points of Light Award (presented by President George Bush), Andrew Heiskell Community Service Award, and Maxwell House Hero Search Award.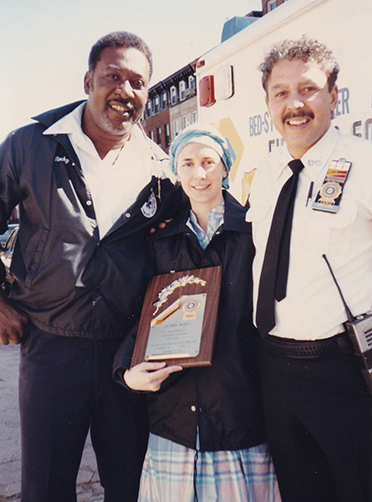 From left:  Rocky Robinson, Tamsin Wolf and Joe Perez in 1989.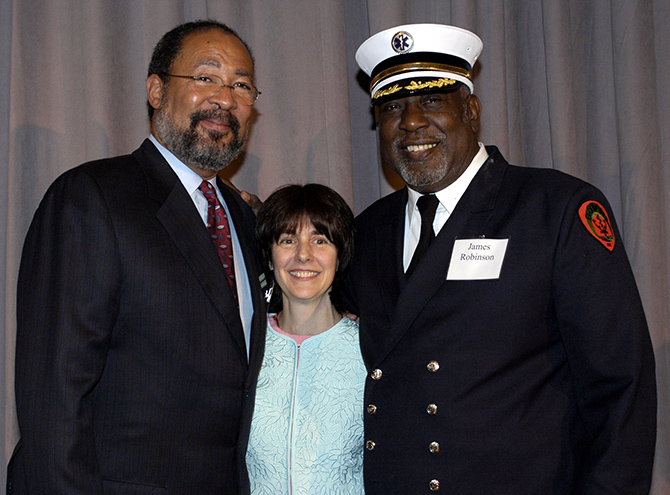 From left:  Richard Parsons (CEO of Time Warner), Tamsin Wolf and Rocky Robinson at the Heiskell Awards ceremony (June 9, 2004).